Are you planning a visit to Georgia? If so, Stepantsminda, also known as Kazbegi, should definitely be on your list. Nestled in the Greater Caucasus Mountains, this small town is known for its breathtaking natural beauty and historic landmarks. Kazbegi is the most northern area in the Mtskheta-Mtianeti region. In this guide, we'll take a closer look at Stepantsminda and everything it has to offer.
Table of Contents
What is Stepantsminda?
Stepantsminda is a town located in the Kazbegi Municipality of Georgia Mtskheta-Mtianeti region. The altitude of 1,740 meters (5,710 feet) above sea level, makes it one of the highest inhabited settlements in the country. The town is situated in the shadow of Mount Kazbek, a dormant stratovolcano that stands at an elevation of 5,047 meters (16,558 feet).
How to Get to Stepantsminda?
The most popular way to get to Stepantsminda is by car or minibus from Tbilisi, the capital city of Georgia. The journey takes around 3-4 hours, depending on traffic and weather conditions. Another option is to take a marshrutka (local minibus) from Didube Bus Station in Tbilisi.
For comfortable exploring the area we offer one day trip to Kazbegi and an extended two-day tour in Kazbegi.
Things to Do in Stepantsminda
Stepantsminda is a nature lover's paradise, with plenty of activities to keep you busy. Here are some of the top things to do in the town:
Visit Gergeti Trinity Church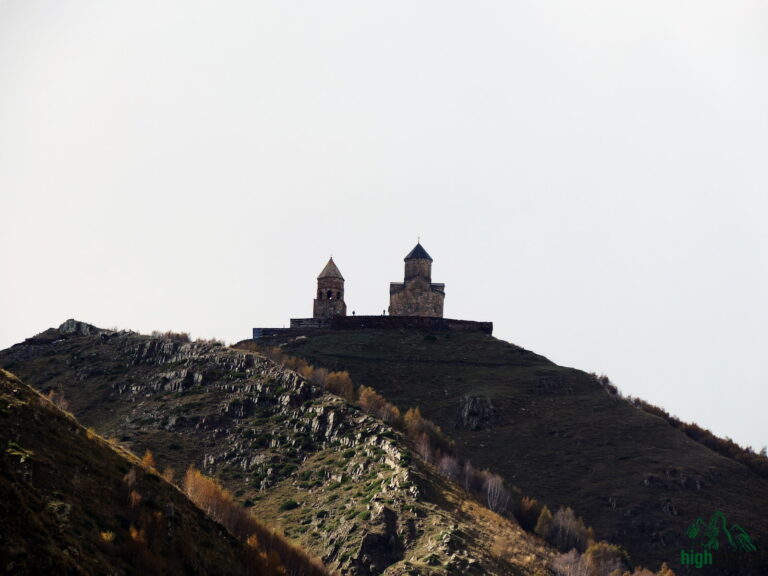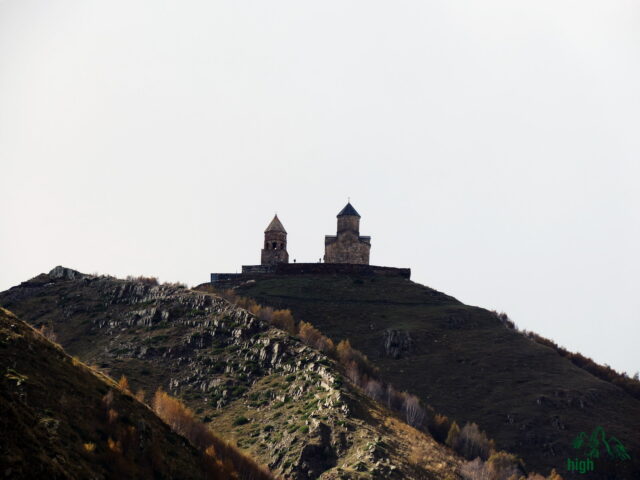 The Gergeti Trinity Church is a must-visit attraction in Stepantsminda. It is located on a hill overlooking the town, and the views from the top are absolutely stunning. The church was built in the 14th century and is one of the most popular and iconic landmarks in Georgia.
Hike to the Holy Trinity Church
For those who enjoy hiking, a trip to the Holy Trinity Church is a must. The hike takes around 2-3 hours and is moderately challenging. The views from the top are worth the effort, with panoramic vistas of the mountains and valleys.
Go Paragliding
If you're feeling adventurous, why not try paragliding in Stepantsminda? There are several companies that offer tandem paragliding flights, giving you a bird's eye view of the town and surrounding mountains.
Currently paragliding is forbidden in Georgia but the situation might change in the future.
Visit Gveleti Waterfall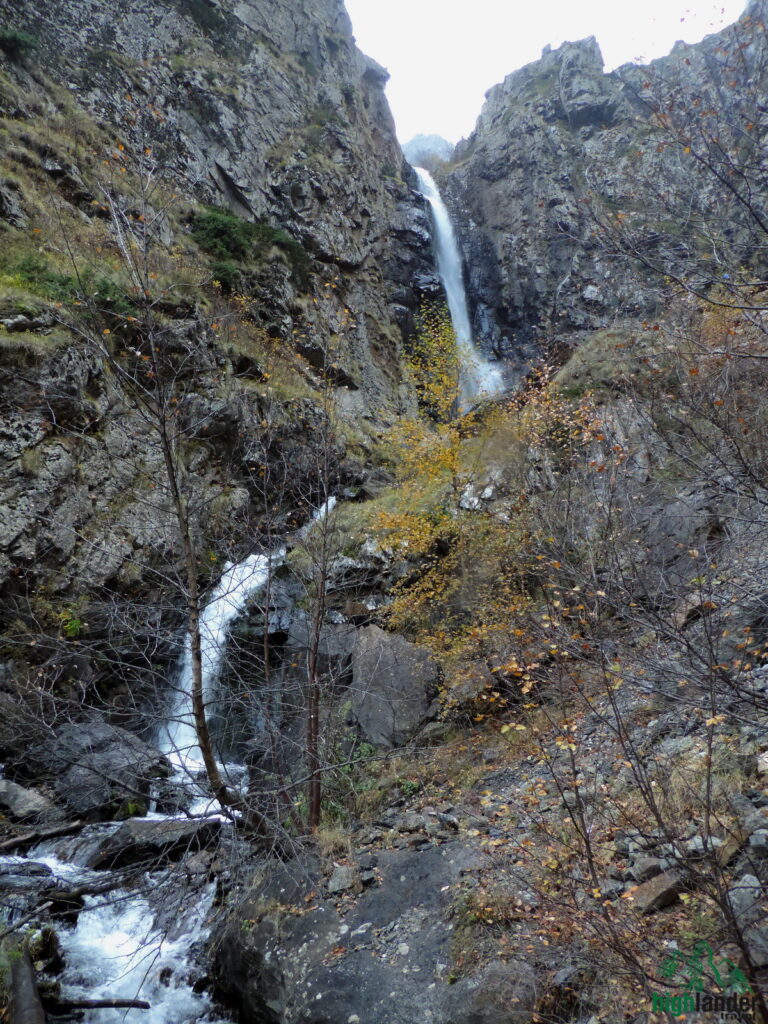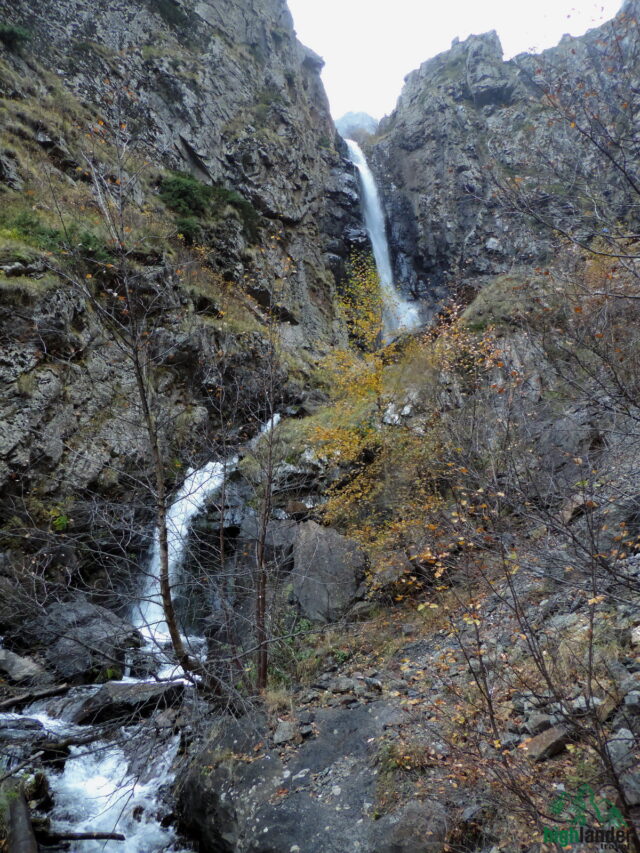 The Gveleti Waterfall is located around 7 kilometers (4.3 miles) from Stepantsminda and is a popular day trip destination. Lush green forests surround the waterfall and is a great spot for a picnic.
Don't miss Sno and Juta
Sno is located near Kazbegi, just 5 km in a very beautiful Sno valley. In Sno village, you can see fantastic sculptures, created by local artist Merab Piranishvili. Sno Valley is approximately 18 km long and ends in the village of Juta. Juta is the highest-inhabitant village in the Kazbegi district. Juta is famous for the picturesque Chaukhi mountains, one of the main trekking spots of the district.
There are two famous camping in Juta, where tourists can stay and enjoy high mountain wildlife and fantastic views. Those are – Zeta Camping and Fifth Season. They operate from June to September. You can reach them only on foot, and as they both are very popular, you need to book them in advance to stay there.
Juta is also starting point for short trekking in Chaukhi mountains and Grand Caucasus trekking.
Enjoy Jeep ride in Truso Valley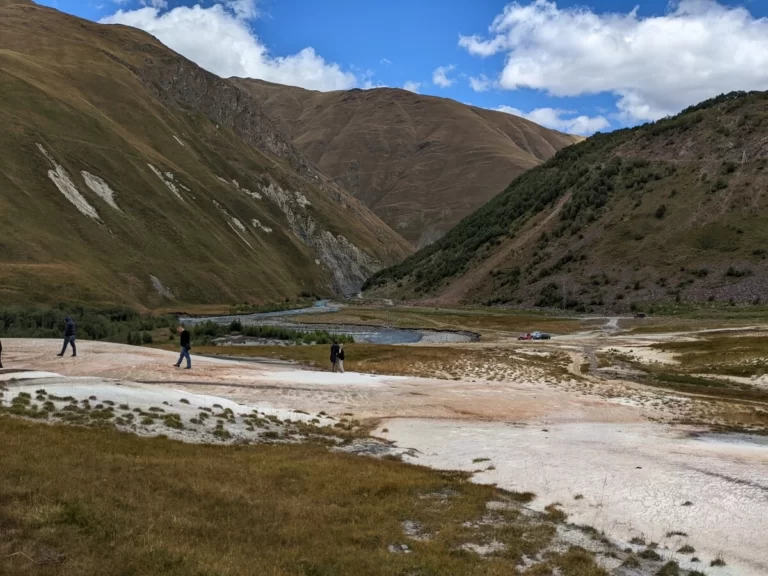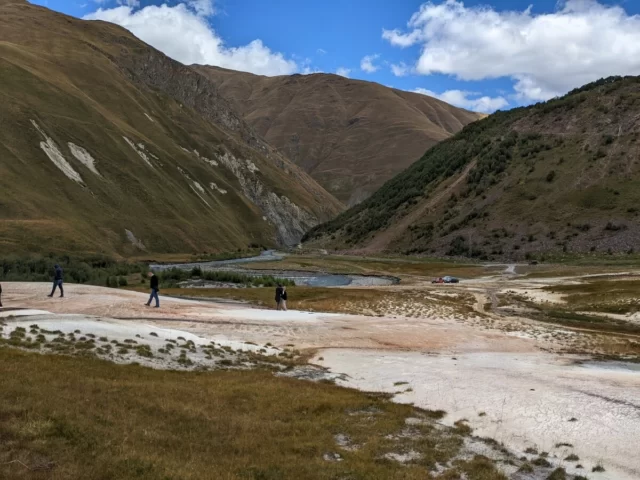 Truso Valley is a real hidden gem of the Caucasus. So you want to know about the Truso Valley? Let me tell you, it's one of the most breathtakingly beautiful places you'll ever lay your eyes on.
Nestled in the heart of the Caucasus Mountains, Truso Valley is a hidden gem that's just waiting to be explored. The valley is located in the Kazbegi region of Georgia and is famous for its stunning natural scenery, pristine hot springs, and ancient historical sites.
If you're feeling adventurous, you can also take a dip in one of the valley's natural hot springs. The water is said to have healing properties and is the perfect way to relax after a long day of hiking and exploring.
Unlike Sno-Juta valley, Truso valley is absolutely uninhabited. There are plenty of abandoned villages.
The best thing about Truso Valley is its untouched natural beauty. The valley is surrounded by towering mountains, crystal-clear rivers, and lush green forests, making it the perfect destination for nature lovers and adventure seekers.
So, if you're ever in Georgia and looking for an off-the-beaten-path adventure, be sure to check out Truso Valley. Trust me, you won't be disappointed!
Try Local Cuisine
Georgian cuisine is famous for its delicious flavors and unique dishes. In Stepantsminda, be sure to try khinkali (dumplings filled with meat or cheese) and khachapuri (cheese-filled bread). Good idea is also to make a cooking class for a local family.
Where to Stay in Stepantsminda
There are several options for accommodation in Stepantsminda, ranging from budget-friendly guesthouses to luxury hotels. Here are some of the top choices:
Rooms Hotel Kazbegi
Rooms Hotel Kazbegi is a luxury hotel located in the heart of Stepantsminda. The hotel features modern amenities, including a spa and indoor pool, and offers stunning views of Mount Kazbek. Restaurant of Rooms Kazbegi restaurant is really very high quality.
Other Luxury Hotels
There are plenty of 4 hotels in Kazbegi and according to Booking.com one five-star hotel.
Kazbegi Chalet
Intourist Kazbegi
Porta Caucasia
Hotel Monte
So for luxury travelers, there is a pretty good choice in hotels.
Guesthouses
For budget-friendly accommodation, there are several guesthouses in Stepantsminda that offer comfortable rooms and traditional Georgian hospitality. We collaborate with several best guesthouses and offer warm and cozy accommodations and meals to our tourists.
Best Time to Visit Stepantsminda
The best time to visit Stepantsminda is during the summer months, from June to September. The weather is warm and sunny, making it ideal for outdoor activities like hiking and paragliding. However, keep in mind that this is also peak tourist season, so expect larger crowds and higher prices.
If you're looking to avoid the crowds, consider visiting in the shoulder season, from April to May or October to November. The weather is still mild, and the autumn colors in the surrounding mountains are absolutely stunning.
Read more in When to Visit Georgia.
Conclusion
Stepantsminda is a hidden gem in Georgia that is definitely worth a visit. From the stunning views of Mount Kazbek to the delicious local cuisine, there is something for everyone in this charming town. So pack your bags and get ready to experience the natural beauty of Stepantsminda.