Information

Tour Plan

Location

Gallery

Reviews

Additional Info

Similar Tours

Price details
Experience the beauty of Georgia with our exclusive tour package from Dubai. Immerse yourself in the rich culture and history of the country, and create unforgettable memories as you discover its stunning landscapes and hidden gems. Book now for a truly authentic and cultural adventure!
What's included
Price includes
Accommodation in single twin share room

Airport transfers

Breakfast

Guide service

Transportation
Price does not include
Excess baggage charge

Medical insurance and emergency insurance

Personal expenses

Services not specifically stated in the itinerary

Tips to guide and driver

Visa arrangements
Georgia tour package for family from Dubai Highlights
Tbilisi
Mtskheta
Uplistsikhe
Kazbegi
Gergeti trinity church
Kakheti
Georgia tour package from Dubai Overview
Take a break from Dubai and explore the incredible beauty of Georgia! Our 4-day, 3-night glimpse of the culture-rich Georgia tour Package from Dubai is perfect for short Eid holiday breaks.
Are you looking for a quick escape from the hustle and bustle of Dubai? Why not enjoy a 4-day, 3-night Georgia tour package to our beautiful country?
With direct flights from Dubai, Qatar, and Sharjah, you can be in the capital city of Tbilisi in just three hours! And if you're coming from Abu Dhabi, Wizz Air has direct flights to Kutaisi.
Our Glimpse of Georgia tour is perfect for those who have a short holiday and want to make the most of their time.
Just a heads up, the best season to travel is from April to December, and the tour is specially designed for travelers from the UAE on Eid holiday breaks.
You'll get to explore the main tourist attractions of Eastern Georgia, and you can choose your preferred hotel to fit your budget.
So get ready to come and explore an unforgettable Georgia tour package from Dubai!
What Waits For You On This Adventure Georgia tour package UAE
Tbilisi, the capital of Georgia, is a vibrant city full of culture, nightlife, and adventure!
Take a stroll through Old City's narrow streets, explore the numerous art galleries, or try some of the delicious Georgian cuisines. Whether you're looking to relax, explore, or just have fun, Tbilisi has something for everyone!
Mtskheta
The city is home to ancient ruins, beautiful churches, and stunning nature. Its rich heritage and diverse culture make it an ideal place to explore and experience the Georgian way of life.
Enjoy the stunning views and incredible ancient architecture while taking in the unique atmosphere of this historic city.
Uplistsikhe is an ancient Georgian city that stands as a reminder of the incredible culture and history of the country. A visit to Uplistsikhe will delight and inspire you as you explore its unique rock-cut architecture and awe-inspiring landscape.
Kazbegi
Kazbegi is a stunning destination located in the Caucasus Mountains of Georgia. It's an ideal spot for those looking for an adventure and a chance to explore its breathtaking landscape.
From hiking and biking to bird watching and skiing, Kazbegi offers a range of activities for all ages and abilities.
Gergeti Trinity Church
Gergeti Trinity Church is an incredible sight, standing high in the Caucasus Mountains.
From the valley's depths to its peak, it's an inspiring site and a reminder of the power of human architecture.
Kakheti is an exciting region in the beautiful country of Georgia. It has a vibrant culture, exquisite cuisine, and stunning landscapes.
Immerse yourself in the traditions of Kakheti and explore its stunning nature. There is something for everyone—from wine tasting to trekking, you'll never get bored.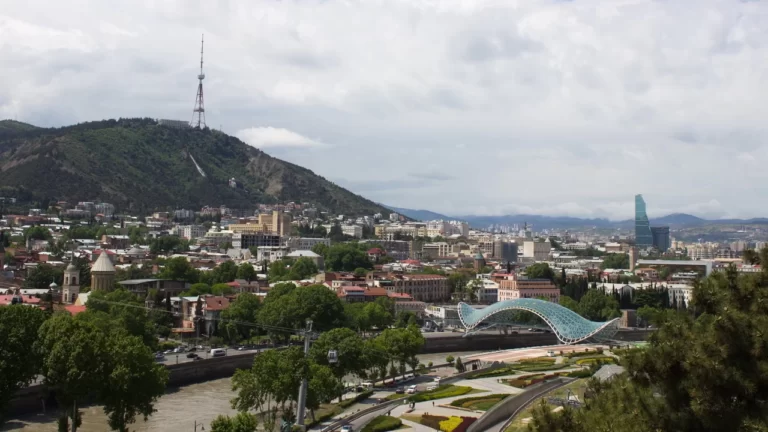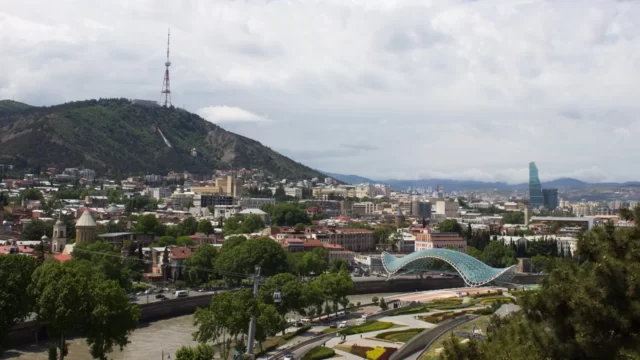 Your 4-Day, 3-Night Itinerary of Georgia Tour Package from Dubai
Welcome to Georgia! We've put together a unique itinerary for our adventurers from UAE and other wonderful Gulf countries to experience the best of our Georgia tour package.
From exploring the vibrant city life of Tbilisi to discovering the breathtaking landscapes of Kakheti and the Caucasus Mountains, you'll be sure to find something exciting and unique to make your trip unforgettable.
So, come and explore Georgia's spectacular sights and sounds!
So What Are You Waiting For?
With each new journey comes the opportunity for a thrilling, unforgettable experience.
Let your spirit of adventure guide you from the amazing other UAE to Georgia tour packages, and savor every moment of the journey.
Don't miss a chance to discover something new! With the right attitude, the possibilities are endless.
So, what are you waiting for? Don't miss out on this fantastic opportunity to explore a new destination—let's connect!
How can I travel to Georgia from Dubai?
Dubai has a direct connection with Tbilisi and Kutaisi. Check Fly Dubai and Wizz air websites for more info. Tbilisi has direct connections also with Sharjah, Abu Dhabi, Riyadh, and Kuwait.
More about this tour
What currency is best to bring to Georgia?
Traveling with USD or Euro is a breeze! You can exchange pretty much any currency you need at the airport, though you should double-check the exchange rate to ensure you're getting the best deal.
In the city, however, it might be trickier to find somewhere to exchange less popular currencies—so plan ahead!
.
How good is cellular coverage in Georgia?
Make sure to activate global roaming with your carrier, so you're always connected no matter where your travels take you. Enjoy the convenience of having reliable mobile phone coverage throughout Georgia!
Which language is spoken in Georgia?
Here, the official language is Georgian, but English is spoken by many of the younger generations. Plus, the older generation can speak Russian.
.
Is halal and vegetarian food available in Georgia??
There are many halal restaurants in Tbilisi city center, including Indian restaurants. In main touristic places there halal places. Vegetarian meals are widely available in Georgian restaurants too. Read out vegetarian food guide.
.