The Landscape of Svaneti
The landscape of Svaneti is characterized by its towering peaks, deep gorges, and vast glaciers. The region is home to some of the highest mountains in the Caucasus, including the twin peaks of Ushba and Shkhara, which rise to over 5000 meters. The mountains are also home to an array of wildlife, including bears, wolves, and eagles.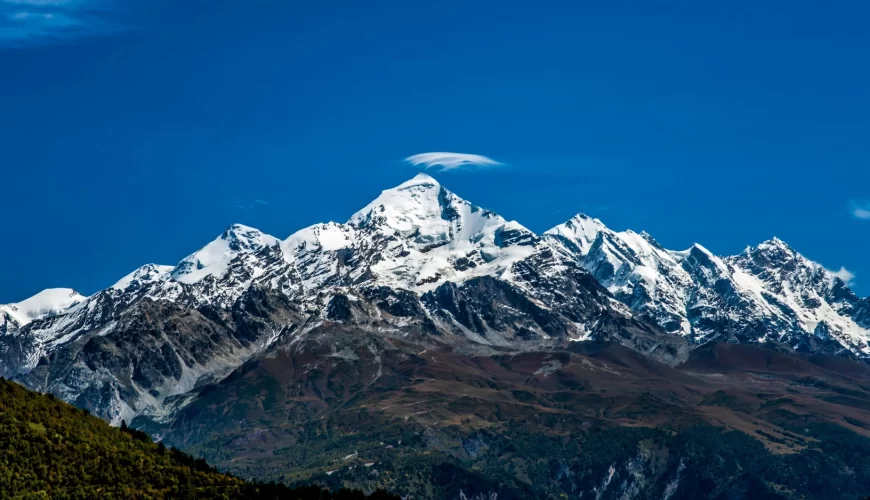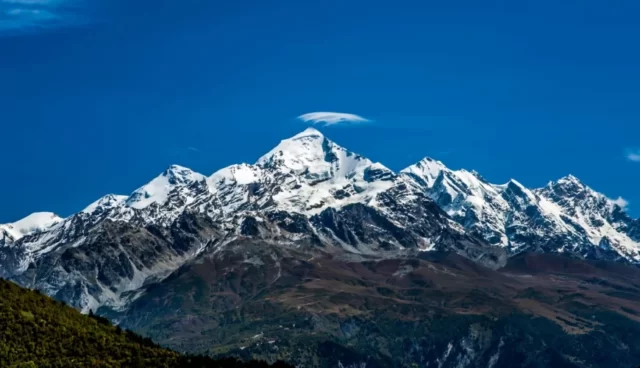 Exploring Svaneti's Natural Beauty
The region of Svaneti is home to some of the most breathtaking landscapes in Georgia. The main attraction is the Caucasus Mountains, which offer spectacular views from every angle. The famous Ushba plateau is covered in snow even in summer, making it a popular destination for extreme skiing and snowboarding.
The region is also home to several high-altitude lakes, such as the Ushba and Tetnuldi, that are perfect for hiking. Village Ushguli is recognized as the highest permanently inhabitant village in Europe and is included in UNESCO World Heritage sights list.
Hiking in Svaneti is the most popular activity among tourists.
Mestia
One of the must-visit places in Svaneti is the historic village of Mestia. Mestia is the administrative center and the biggest settlement in Upper Svaneti. There travelers can find a wide range of hotels, cafes, and restaurants. Of course, the most impressive attraction in Mestia is the famous Svaneti towers. These ancient structures have stood the test of time, and they offer a glimpse into the rich history of Svaneti.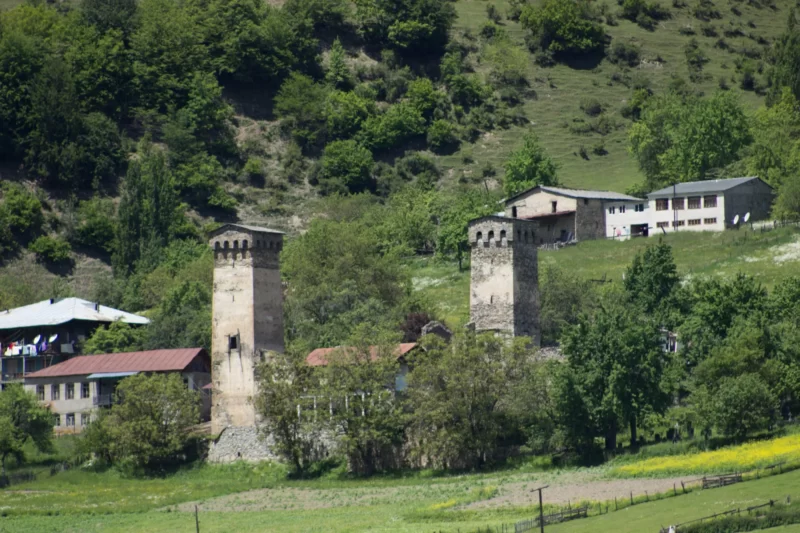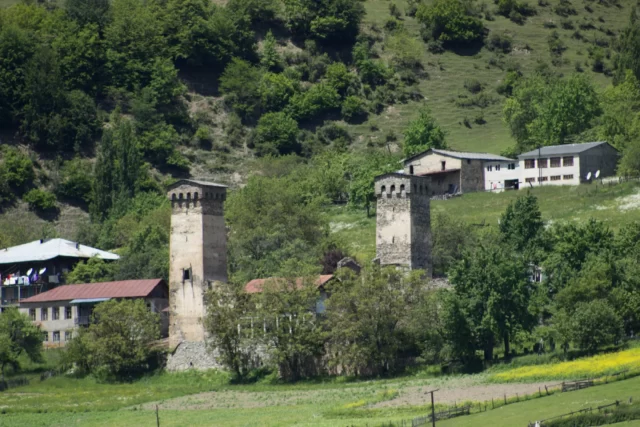 Getting to Svaneti
The most convenient way to reach Svaneti is by flying into the nearby city of Kutaisi and then taking a bus or minivan to the region. There are also several daily marshrutka (shared minivan) services from Tbilisi. If you're feeling adventurous, it's also possible to reach Svaneti by taking a jeep tour from Tbilisi or Kutaisi.
A good way is to take the train to Zugdidi and from there a taxi or shared minibus or minivan to Mestia. Flights from Tbilisi or Kutaisi are regular, but often cancelled because of weather conditions.
What to Do in Svaneti
There are many things to do in Svaneti.
Visit the website dedicated especially to tours in Svaneti.
Visit the medieval fortress of Mestia, the historic center of Svaneti. The fortress is home to several important cultural and historical sites, including the Svaneti Museum of History and Ethnography.
Hike to the foot of the Ushba mountain, one of the most iconic peaks in the Caucasus Mountains. The trek offers breathtaking views of the mountain and the surrounding landscape.
Explore the village of Ushguli, considered to be one of the highest continuously inhabited settlements in Europe. This UNESCO World Heritage site is home to several well-preserved medieval churches and towers.
Skiing and Snowboarding, the region is well known for its skiing and snowboarding opportunities, with several ski resorts located in and around Mestia.
Trekking in Svaneti
Svaneti is a paradise for hikers and nature lovers, with some of the most scenic trekking routes in Georgia. The trek from Mestia to Ushguli is a popular route that offers breathtaking views of the Caucasus Mountains. The route passes through pristine forests, gushing rivers, and glacial lakes, making it an unforgettable experience.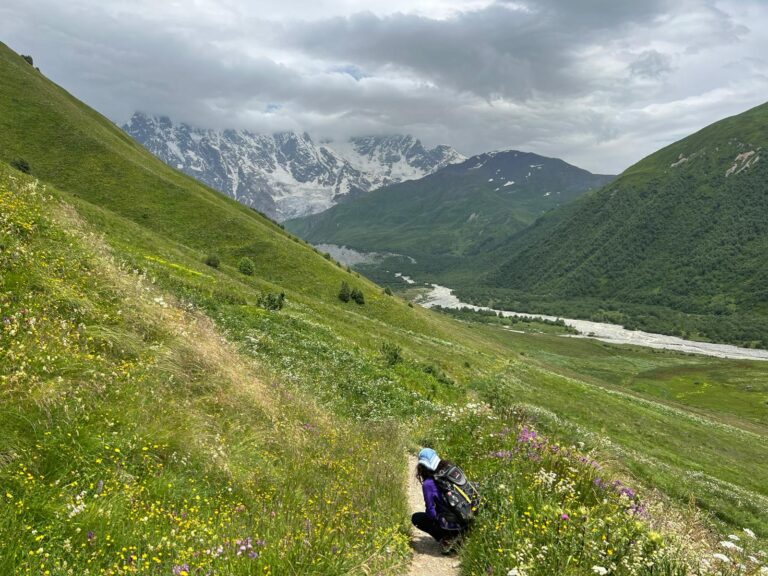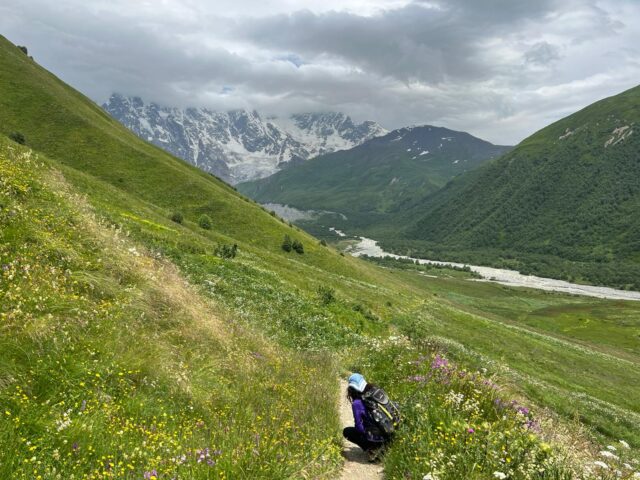 Svaneti ski resort
Are you looking for a unique ski experience off the beaten path? Look no further than Svaneti Ski Resort in Georgia. Nestled in the Caucasus Mountains, Svaneti offers a winter wonderland for ski enthusiasts of all levels.
Svaneti Ski Resort has something for everyone. The resort boasts a variety of runs, from beginner to expert, with a total length of over 20 kilometers. The ski lifts are modern and efficient, and there are also opportunities for off-piste skiing for more advanced skiers. The snow is reliable throughout the winter season, which typically runs from December to April.
There are two major places for skiing Hatsvali – just 7 km away from Mestia and Tetnuldi 20 km away from Mestia.
Tetnuldi ski resort is located on the slope of Tetnuldi mountain – 4870m. The lowest cable station is at an altitude 2150 m above sea level. The next level cable starts at 2700 and goes up to 3165m above sea level. The total length of pistes is up to 30 km. There is all kind of difficulty pistes. The longest piste is 9.5 km long.
Immerse Yourself in Svaneti's History and Culture
Svaneti is home to a unique culture that has been preserved over the centuries. The local Svan language is distinct from Georgian, and the region is known for its vibrant folklore, traditional music, and dances. The Svaneti Museum of History and Ethnography in Mestia is a great place to learn more about the culture and history of the region.
Svaneti is also rich in history and culture, with a long and storied past that dates back to the Middle Ages. The region is home to several well-preserved medieval towers, churches, and monasteries that are open to visitors.
One of the most famous historical sites in Svaneti is the UNESCO World Heritage Site of Mestia, a village Ushguli located in the heart of the region. Mestia is home to several medieval towers and churches, as well as a museum dedicated to Svaneti's history and culture.
Enjoy Svaneti's Local Cuisine
Svaneti's unique cuisine is also worth trying. The region is known for its delicious cheese Sulguni, which is made from the milk of the cows. Svaneti's cheese is often served with traditional bread, known as "shotis puri," and is a staple of the local cuisine.
Other local specialties include kubdari a meat-filled pastry and very delicious Khachapuri. Svaneti is also known for its homemade brandy, which is often served as an accompaniment to meals. Must-try vegetarian meals are also Chvishdari and Tashmijabi.
Where to Stay in Mestia and Other villages
There are plenty of accommodation options in Svaneti, ranging from budget hostels to luxury hotels. For those looking for a more authentic experience, guesthouses in traditional Svan houses are a popular choice. These guesthouses offer a glimpse into the local way of life, with home-cooked meals and warm hospitality.
Tips for Visiting Svaneti
Be prepared for cold weather, even in the summer months.
Pack comfortable hiking shoes and warm clothing.
Be respectful of local customs and traditions.
Be prepared for limited ATM access and a shortage of cash in some areas.
Svaneti is a truly unique and unforgettable destination that offers a variety of activities and experiences for visitors. With its picturesque landscapes, rich cultural heritage, and delicious local cuisine, it is definitely worth a visit for any traveler to Georgia.
Conclusion
Svaneti is a hidden gem in the Caucasus Mountains, offering travelers a unique combination of natural beauty, rich history, and local culture. With its stunning landscapes, medieval towers, and delicious local cuisine, Svaneti is a destination not to be missed.
Area: 5,776.4 km2
Population: 23,000
Towns: Mestia and Lentekhi
Tours in Svaneti
Svaneti tours Step into the Wild: Embark on an Svaneti Trekking Experience!
Unleash your inner adventurer with Svaneti trekking! Discover breathtaking landscapes, ancient traditions, and thrilling trails that will leave you speechless. Book now and start your journey to the heart of the Caucasus Mountains
Step into the Wild: Embark on an Svaneti Trekking Experience!
Interesting villages

Churches

Museums and towers

Natural Monuments
Mestia
Latali
Lenjeri
Becho
Lakhiri
Lagami
Lanchvali
Ushguli
Adishi
Tsvirmi
Kala
St. Mary church in Ushguli
Archangel church in Kala
St. Barbara church in Kala
St. Kvirike and Ivlita church in Kala
St. George church in Adishi
St. George church in Ipari
Savior's church in Tsvirmi
Kaldani family church in Mulakhi
Transfiguration church in Mestia
St. George church in Mestia
St. Marry church in Mestia
Jonah the prophet's church in Latali
Savior's church in Latali
Tangili Archangel's church in Latali
St. George's church in Latali
Mkheri church in Latali
Savior's church in Lenjeri
Archangel's church in Lenjeri
Museum of history and ethnography in Mestia
Margiani historical household
Mikheil Khergiani's museum
Ushguli historical house
Ushguli Museum
Tower of love
Chalaadi glacier
Zuruldi mountain
Koruldi lakes
Guli pass
Zagaro pass
Latpari pass
Shdugra waterfalls
Shkhara glacier
Map of Svaneti Georgia
Including popular Svaneti hiking routes