Svaneti, also called the land of thousand towers, is the most mysterious, hard to get and highland region of Georgia. It is also very popular tourism destination, because of it's unique local culture, picturesque landscapes and architecture. Winter in Svaneti is not less amazing then summer time. There are two major ski resorts around Mestia – Hatsvali, which is just 6 km away from downtown and Tetnuldi – 15 km east from Mestia.
Mestia is perfect place for those who are looking for something unusual, very authentic place and want really unforgettable adventure!
Local guides and ski instructors will offer you various ski tours, and instruct you if you are not experienced ski sportsmen.
New offer
Winter tour in Svaneti – 7 days, 6 nights. Spend unforgettable time in winter wonderland!
Ski tour in Svaneti – 9 days tour including 7 days of ski tour.
Information
Information about ski trails in Hatsvali
Quantity of cable: 3
Quantity of trails: 5
Difficulty of trail 1: average, sport style, blue.
Difficulty of trail 2: above average, sport style, red.
Cable manufacturer: Leitner – Poma Inc
Length of cable 1: 1407 m
Length of cable 2: 300 m
Length of cable 3: 400 m
Length of trail 1: 2565 m
Length of trail 2: 1900 m
Highest point of trails: 2450 m
Lowest point of trails:1800 m
Road from Mestia to beginning of cable: 6 km, new road.
At bottom of cable is cafe.
Easy style trail in Mugviri, length 300 m.
Information about ski trails in Tetnuldi
Tetnuldi ski resort is located on the slope of Tetnuldi mountain – 4870m. Lowest cable station is on altitude 2150 m above the sea level. Next level cable starts at 2700 and goes up to 3165m above the sea level. Total length of pistes is up to 30 km. There are all kind of difficulty pistes. The longest piste is 9.5 km long.
Specifications resort Tetnuldi
Altitude: 1600 m. – 3600 m.
Ski Area: 2260 m. – 3036 m. (to 3165 m.)
The height difference: 900 meters.
The length of the longest track: 9,5 km
Number of lifts: 3 chair lift POMA (France)
Ski-pass for skiing in Tetnuldi
Approximate cost of the daily ski pass GEL 20 (USD 9.00)
Ski lifts working hours: 10:00 – 16:00.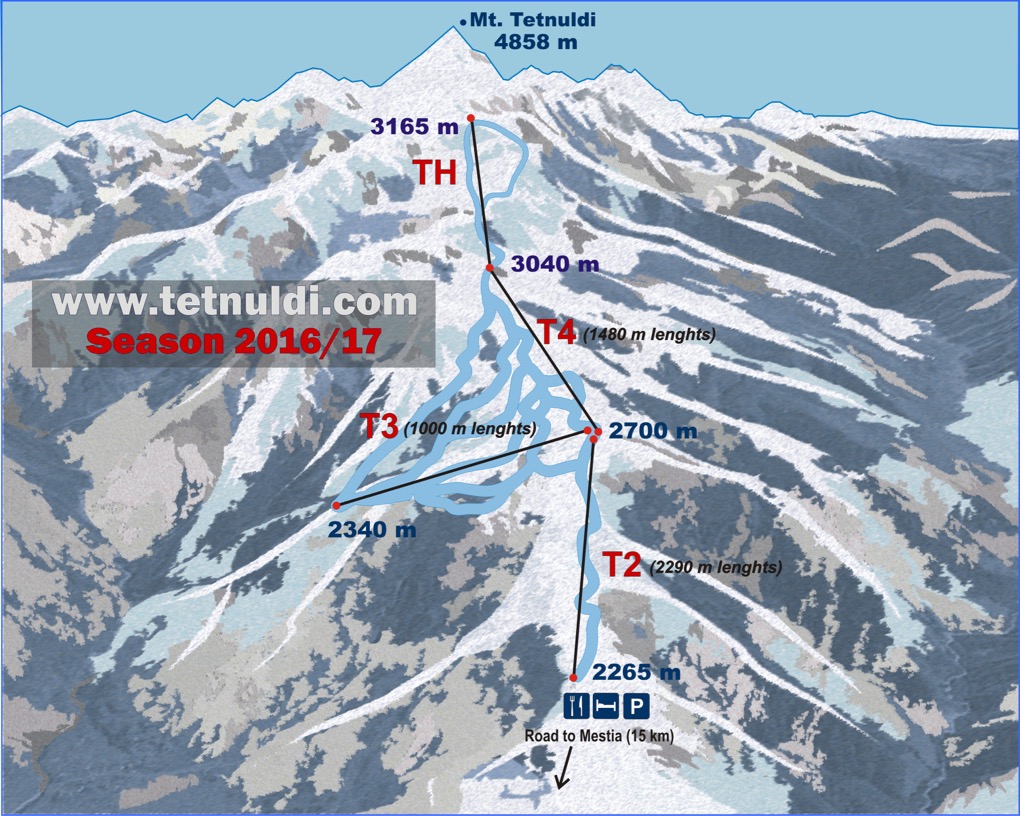 We offer:
Transportation – Tbilisi/Batumi – Mestia and back.

Tbilisi – Mestia 550 – 600 GEL (one way, miniwen or minibus)
Batumi – Mestia 350 – 400 GEL (one way, miniwen or minibus)
Zugdidi – Mestia 200 GEL (one way, miniwen or minibus)

Booking hotels and guesthouses in Mestia
Transfer from hotel/guesthouse to Hatsvali.
Transfer from hotel/guesthouse to Tetnuldi.
Ski instructor service.
Various winter tour packages are coming soon!
Spend unforgettable winter in mysterious land – Svaneti!