Lagodekhi Protected Areas – one of the world's best-preserved, primitive area with a diversity of natural landscapes – is located in Lagodekhi district in Kakheti, in the extreme north-eastern part of the southern slopes of the Caucasus and extends at an altitude of 590-3500 m. In Kakheti region it is best place for trekking and horse riding tours.
Lagodekhi Protected Areas includes Lagodekhi Nature Reserve (19755 ha) and Managed Reserve (4500 ha). The latter creates optimal conditions for an understanding of nature through infrastructure development related to education and recreation works. At present there are five breathtaking, safe and informative tourist trails in managed reserve of Lagodekhi Protected Areas, namely: Grouse waterfall, Ninoskhevi waterfall, Machi castle, Black Rock Lake and knowledge of nature trail.
Central entrance of Lagodekhi Protected Areas is integrated into administrative and visitors complexes. Exposition and exhibition halls are arranged in the administrative building, where visitors have the opportunity to become familiar with the specifics of Lagodekhi protected areas, existing tariffs, safety rules and to choose a desirable route from existing tourist trails with appropriate services.
Table of Contents
Lagodekhi Protected Areas hiking trails
1. Black Grouse Waterfall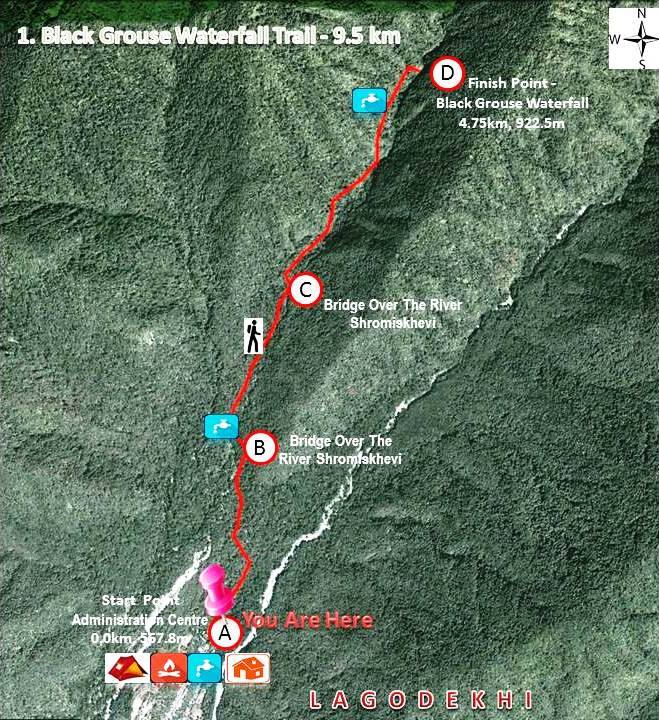 / 9.5 km, 3 – 5 hr, pedestrian, difficulty: average /
The trail goes from the visitor center along the untouched broad-leaved forest, in the direction of the ShromaRiver valley. We come across unique hornbeam stands (400-600 m above sea level) which are rather rare in the Caucasus. This is followed by mixed beech stand (hornbeam, Ash, lime, maple, elm, chestnut, etc.).
Surrounded by magic flavors and mystery we cross the Shromaiskhevi River and go along the left slope of Ninigori mountain through a narrow path, which overlooks a noisy river, small waterfalls and huge rubble, which lay motionlessly in the depths of the valley. At the end, a mass of water flows between stunning noise, spray, rainbow and huge green rocks and creates the 6 m high Rocho waterfall. From time to time, visitors come across roe, deer, and wild boar.
2. Ninoskhevi Waterfall (Great Waterfall)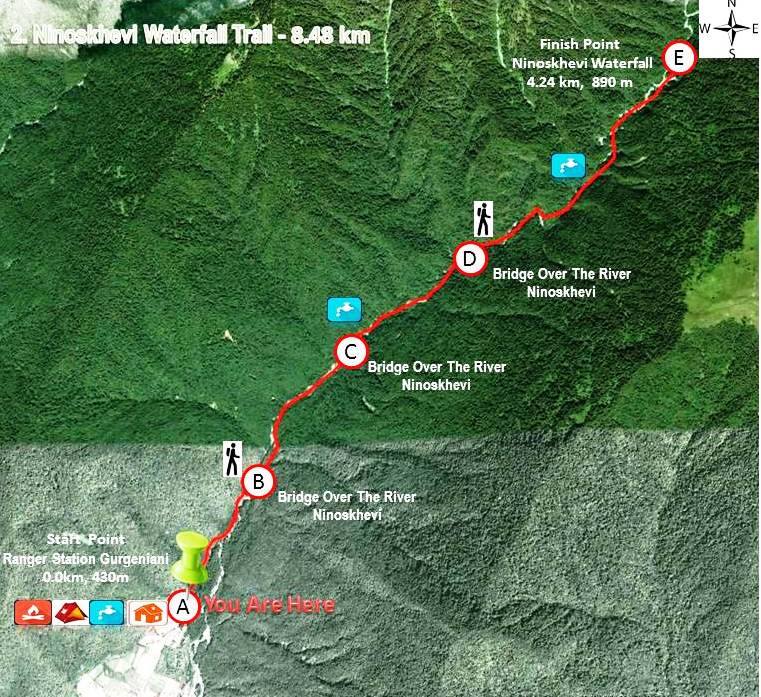 3. Hiking Tourist Trail "Machi Castle":

We head to the village of Matsimi from Lagodekhi Protected Areas administration center by vehicle (From Lagodekhi to the village of Matsimi – 7 km, 5 min).
The route starts from the administration center in the village Matsimi and heads to the BneliKheobaRiver (dark gorge). The path crosses Oriental Hornbeam and karpet-like moss that resemble a fur coat put on bare stones. We appear in a tale turned into reality, from where we go through mixed beech stand and cross the BneliKheobaRiver followed by a path going up to mountain slopes which lead us to the fortress built by our ancestors centuries ago.
The remarkable fortress of Kakheti from the medieval age is surrounded by walls, yet inside proudly stands a noble family church, with underground pathways and the ruins of building reenacting the pictures of the already forgotten ancient past.
4. Driving – Horse-Riding Tourist Trail"Black Cliff Lake":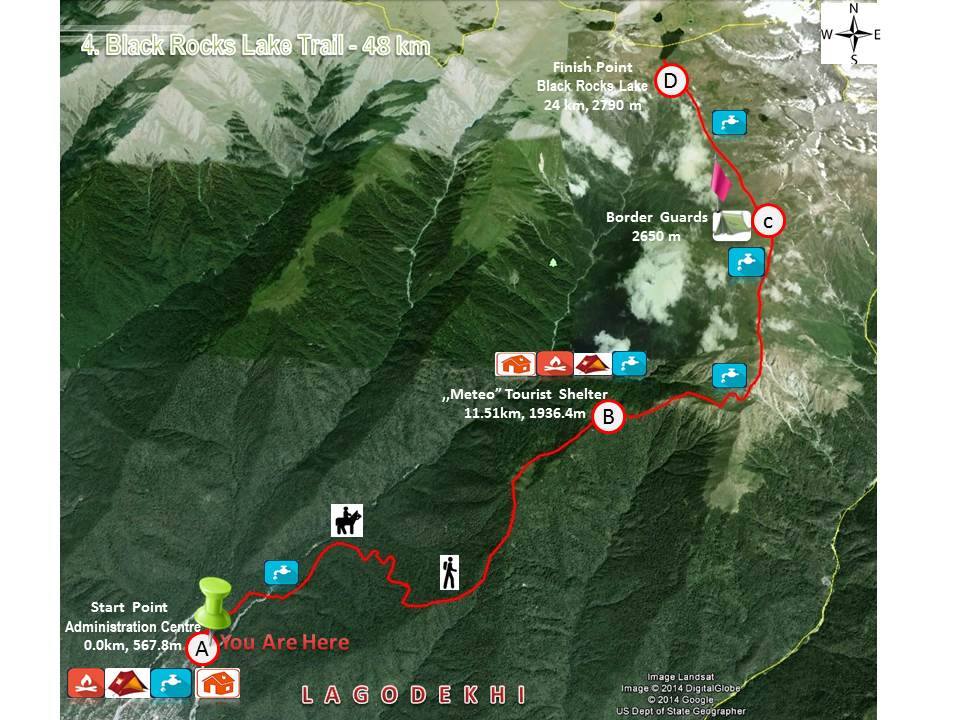 / 48 km, 3 days, horseback, difficulty: average /
This is one of the most interesting trails in all of Georgia and is distinguished by its astounding views of the Alazani valley and the Caucasus mountains. The route starts from the Lagodekhi Protected Areas Administration. In 10-15 min you will come across unique hornbeam stands (400-600 m above sea level) which are rather rare in the Caucasus.
In 30-40 min we will cross the river Lagodekhi valley. While in 20-30 min we enter young virgin hornbeam stands, which grew as a result of a wind-break (1933). In 15-30 min we come across to the local Kakhetian endemic plant – LeotnicesmirnoviiTrautv., which flourishes during early spring and is included in the Red List. In 30 min we get to the beginning of the ridge in untouchable beech stands. 
In an hour we go up the hill 1,300 m above sea level and go along Kochalo hill, were we can observe beech forest on the north and mixed, broad-leaved forest on the south-east. In 2 hours you will appear in a sub-alpine zone – high hill, shallow maple stands. In an hour you will see the tourist shelter Meteo, picnic and camping sites specially arranged along the area. On the second day we continue our trip on Kochalo hill.
In an hour we go up to the upper alpine, where visitors can observe rare ungulate animals such as: deer, chamois and wild goat; as well as birds such as grouse, Caucasian snow cocks, bearded and various eagles. In an hour we go up the pass to the so-called Demidovi ruins, which are famous for a fiefdom of goats. Afterward we appear on relatively flat alpine meadows which represent pastures for goats. In the following 40 minutes we come across little lakes and wetlands embroidered by the magic of nature from the glacial age. In 30 minutes Black Rock Lake spreads in front of us.
Magic nature changes in front of the visitor 400-3,500 m above sea level, and in the case of a careful walk one can meet rare representatives of fauna. Visitors can move by horses, rest on specially arranged picnic spots, overnight in tents and rent appropriate equipment. It is remarkable that Black Rock Lake represents a natural border between Georgia and Daghestan, the Russian Federation.
First Day – from the administrative center to the tourist shelter. Distance – 11.5 km, 1,350 m. above sea level.
Second Day – from the tourist shelter to the lake and back. Distance – 25 km, 900 m. above sea level.
Third Day – traveling from the shelter back to the administration building. Distance – 11.5 km., 1,350 m. above sea level.
The tourist shelter can accommodate 16 individuals.
5. Nature Interpretation Path
This is Tony Tur. Usually, Tony lives in the high mountains of Lagodekhi. But he loves to make a trip down to the Nature Interpretation Path to show kids and curious adults how much fun it is to experience nature. Along twelve interactive stations, you can see nature with different eyes, hear it with new ears and palpate it with hands and feet. There will also best destinations to frolic and relax. The path is 600 meters long and starts beside the Visitors' Center. Tony is looking forward to your visit!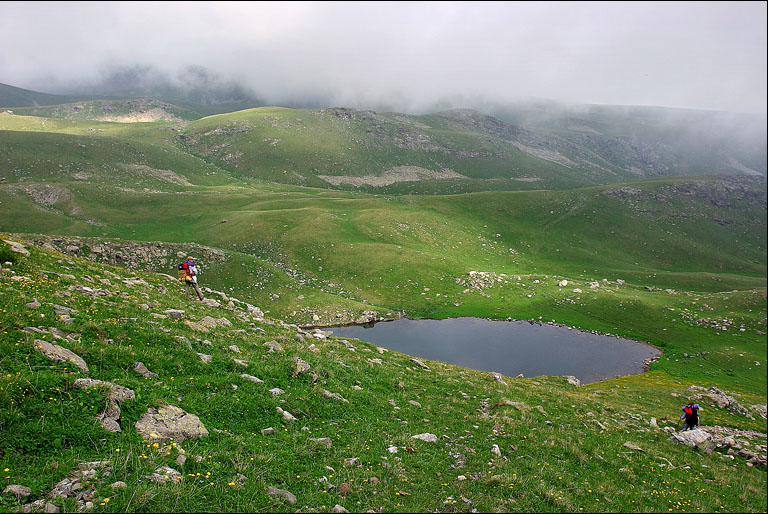 Official website: nationalparks.ge/en/site/lagodekhinp