Highlander travel offers popular 3 day horse riding tour in Georgia, which will cover Borjomi-Kharagauli national park and Svaneti route from Mestia to Ushguli. Including arrival to Mestia and departure tour is 8 days long. Tour is for intermediate and good riders, for beginners 3 days in saddle could be too much. During this tour on the way tourists will see green forest, picturesque ranges, alpine valleys and the most interesting cultural sites as ancient houses, towers and churches with beautiful frescoes, which usually are leaved out of typical tourist trails. Guide knows a lot of old stories and legends to share them with guests during trekking.
Best time for tour is from end of May to end of October.
Horse riding tour in Georgia itinerary
Day 1: Travel from Tbilisi to village Atskuri near Borjomi. On the way visit Mtskheta, ancient capital of Georgia, here we will visit UNESCO world heritage listed medieval churches – Jvari monastery and Svetitskhoveli cathedral. Next our destination will be ancient carved in the rock town Uplistsikhe. After visiting Uplistsikhe we will continue travel to Borjomi resort town located in Borjomi gorge. Here we will have free time to walk in beautiful park. Finally we will arrive to village Atskuri guesthouse, where dinner will be waiting for us.
Day 2: Horse riding tour in Borjomi-Kharagauli national park. Tour starts from guesthouse, where you will meet your horses. Trail goes through forest to Tsriokhi fortress. Whole tour takes 4-5 hours. After tour light lunch at guesthouse and trip to Akhaltsikhe, where we will visit Sapara monastery and Rabati fortress. Return to the guesthouse for dinner.
Day 3: Today we will have long drive from Atskuri to Mestia. On the way short stop in Kutaisi city center to walk around and have a lunch break. Arrival in Mestia, check in guesthouse. Dinner.
Day 4: Meeting with guide and horses in Mestia. Start ride through Mulakhi community to village Adishi. Take care to get lunchbox from your guesthouse, or ask guide to prepare lunchbox for you for a modest fee. Total riding distance 25 km. Arrival to village Adishi, on altitude 2000 m above the sea level. During riding enjoy fantastic views of mountains Ushba and Tetnuldi. Overnight in Adishi. Dinner will be served in guesthouse.
Day 5: Ride in Adishi valley and Ckhutnieri pass – 2700 m above the sea level. decent in Khalde valley, ride until village Kala. On the main road jeep will pick you up to drive to Ushguli village. Dinner and overnight in guesthouse.
Day 6: Get horses and ride to Shkhara glacier. Enjoy wonderful nature. Return to Ushguli. Return to Mestia by car in the evening. Check in guesthouse and enjoy dinner.
Day 7: Departure from Mestia to Tskaltubo town near Kutaisi. On the way visit Martvili canyon. Relax in Tskaltubo.
Day 8: Visit Sataplia cave. Drive back to Tbilisi where our tour will end.
| Number of tourists | 2 | 4 | 6 | 8 | 10 |
| --- | --- | --- | --- | --- | --- |
| Price per person USD | 1030 $ | 710 $ | 630 $ | 640 $ | 600 $ |
Tour price includes:
Guesthouses and hotels in Atskuri (2 nights), Mestia (2 nights), Adishi, Ushguli and Tskaltubo.
Breakfasts. Dinners – except Tskaltubo.
Lunch boxes during horse tours.
Horse rental.
Guide or Guide/driver
vehicle AC
jeeps
horsemen.
Entrance fees.
Tour does not include:
personal expenses
tips
hotel in Tbilisi.
alcohol drinks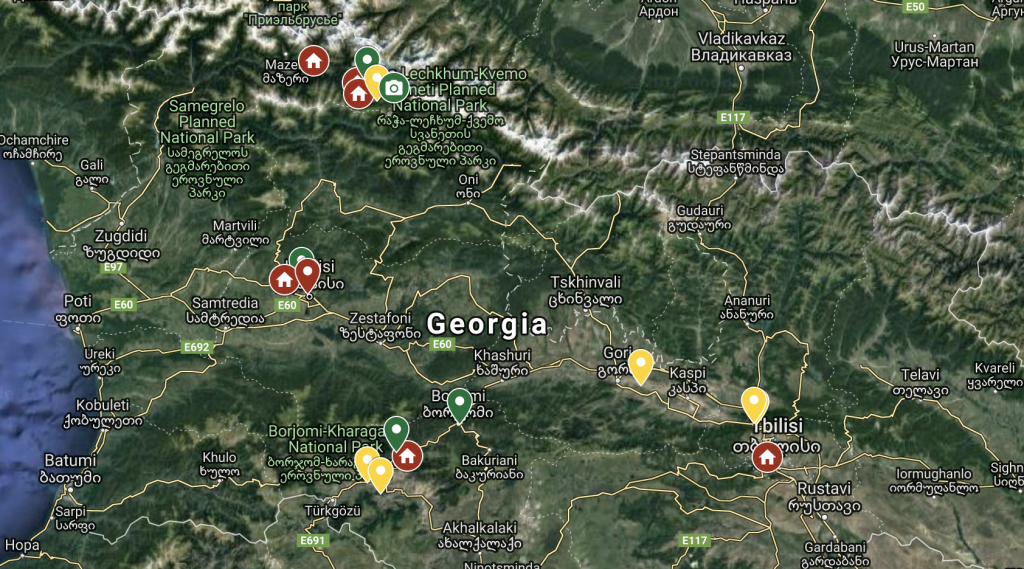 Q: How difficult is tour?
A: Tour is not really difficult. It is good for amateurs, with little horse ridding experience.
Q: What will happen with out luggage in Svaneti?
A: You can leave main luggage in Mestia guesthouse. Take only essentials in small backpack.
Q: What equipment is included and what we must bring with us?
A: Boots, pants, helmets are not included, you must have your own. Helmets are not must.
Comments
comments