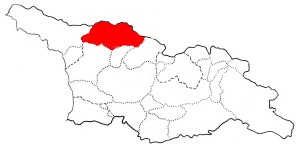 Svaneti is the most highland and remote region of Georgia. According to administrative division of Georgia, upper Svaneti belongs to Samegrelo – Zemo Svaneti region, and lower Svaneti to Racha – Lechkhumi – Kvemo Svaneti region. But whole Svaneti is so specific, with it's very authentic culture, traditions, own language, that is would be more correct to discuss Svaneti separately. Region is divided into two main parts – Upper Svaneti and Lower Svaneti.
Main town of upper Svaneti is Mestia and most tours start from here. Center of musch less touristic lower Svaneti is town Lentekhi.
Last 15 years Mestia became very touristic town. Here are many hotels and guesthouses, caffes, tourism information center, etc. For more information about tours in Svaneti please visit page SvanetiTrekking.com. We collaborate with local guides.