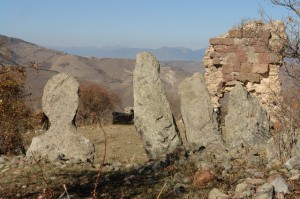 Jeep tour in Uraveli gorge
Visitors to this area become acquainted with the oldest villages of Meskheti where historic, cultural and ethnographical monuments are preserved.
Points of interest:
Groma church
Baiebi church
Enteli village
Agara monastery complex
The trip starts from Aspindza, continues by road northward, 1.5 km to the right after crossing the bridge is Uraveli Gorge, Tskordza village and continues toward st. Tevdore church (called Groma). Continue westward to Kisatibi village known as Baiebi. There is a spring and nearby is place for picnic. The next stops are Enteli village (XII c. 1650m above s.l.) and Agara monastery (X-XIV cc). On the way back visit village Muskhi and see local ethnographic museum.
Length of the route: 50km
Duration of the tour: 5 h.
Maximum altitude: 1650 m above sea level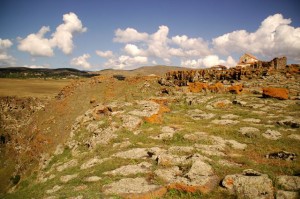 Saro – Varevani – Toki
Javakheti plateau is one of the most interesting and attractive areas to visit, with valleys, flields full of colourful flowers, a great number of historic and cultural sights and natural monuments. In the villages there are many typical Meskhi houses, terraces, irrigation canals.
Points of interest:
Saro Archangel church and fortress
Vardistsikhe in Varevani
Church in Toki
The tour starts in Aspindza and goes southward by road 11.5 km after road turns to mountains to villages Saro and Khizabavra. Visitors will see the rural life of the Meskhi population; will view monuments and the ruins of three ancient fortresses.
The jeep tour continues to Varevani village and Toki village. Which are noted for the historic monuments and underground tunnels and Darans (underground dwellings and shelters). St. George church in Toki dates from XII-XIII c.
Length of the route: 40km
Duration of the tour: 4 h.
Maximum altitude: 1670 m above sea level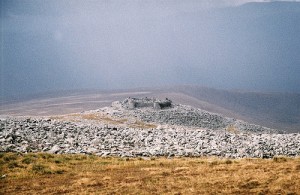 Ninotsminda – Saghamo lake – Poka – Paravani lake – Abuli fortress – Shaori fortress – Samsari monastery
At 1500-2000 meters above sea level, the Javakheti plateau offers a wide range of sights including sweeping grassland plains, high craggy mountain peaks, deep canyons and river gorges, broadwetlands and numerous fresh water alpine lakes. The trade routes between Armenia and Bizantium went through this area. Lakes to be visited include Saghamo and Paravani.
Points of interest:
Poka monastery
Lake Paravani
Lake Sagamo
Fortress Shaori
Fortress Abuli
Big Abuli
Samsari church
Route starts in Ninotsminda. Stop at Sagamo lake, to see ruins of church nearby. Continue to Paravani lake and visit in village poka st. Nino's church. After turn to village Aspari and continue the way to Shaori megalith fortress. After visiting fortress, return to Poka and continue driving via Abuli pass, here road goes at buttom of the highest mountain of Javakheti – Didi Abuli (3300m). From the pass route turns tu little Abuli. To Abuli fortress – which is another megalith fortress in Javakheti, on altitude of 2700 m above sea level, tourists must walk. After visiting fortress, route continues down to village Abuli and then to the town Akhalkalaki. From the town route continues to village Baraleti and turnes to village Little Samsari. Before village travelers must turn to the little gorge, and find there ruins of Samsari monastery.
From here route can be continued northward – to lake Tabatskuri, or southward to the main road and sleep in Aspindza or it's surroundings.
If you are interested, please contact us.
Comments
comments