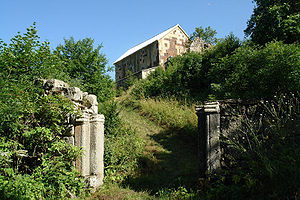 I offer two eco tours to the interesting and "hidden" architectural monuments of south Georgia. Many interesting places are located in deep gorges, far from settlements and modern roads, so it is impossible to add them to cultural tour. The goal of both tours is to reach such hidden in gorge and forests monasteries, and have nice walk of course, in beautiful nature.
2 day hiking tour in Gudarekhi
Gudarekhi monastery was built near river Gudarekhis tskali in XIII century. It has high class bareliephs, which are so usual for churches of Kvemo Kartli built in XII-XIII centuries. Gudarekhi is located near little village in deep forest.
Hiking starts near Algeti water reservoir and continues up to Village gudarekhi. Camping near monastery. Evening is free to walk around.
Next day continue road to town Tetritskaro. Distance about 12 km. Transportation to Tbilisi.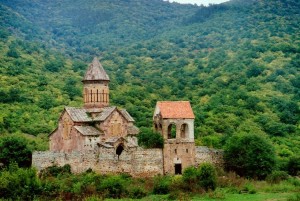 2 day hiking to Pitareti
Pitareti monastery is located in Region Kvemo Kartli, Tetritskaro district, in deep gorge, surrounded by forests, in Khrami river valley. It was built in XIII century, and is well known because of high masterity of bareliephs. Psrescos of main church are in bad condition, but still is available to see them. It is not possible to get to monastery by bus or minibus, only 4×4 vehicle can reach it. Monastery used to be shrine of noble families Orbeliani and Baratashvili.
Transportation to the start of the trail, near village Alekseevka.
Hiking via forests to Pitareti monastery, camping near monastery.
Next morning visit main church of monastery.
Continue hiking to village Tandzia.
Visit Khuluti fortress and cross river Khrami.
Transportation from Tandzia to Tbilisi.