Full of adventures trekking tour Tusheti duration is one week. Best time from July to September. Overnights in guesthouses and camps. Hiking distance – 80 km. Tusheti is located on the north slopes of Grate Caucasus range – one of the wildest and most remote part of Georgia, Kakheti region.
Located on the northern slopes of the Greater Caucasus Mountains, Tusheti is bordered by the Russian republics of Chechnya and Dagestan to the north and east, respectively; and by the Georgian historic provinces Kakheti and Pshav-Khevsureti to the south and west, respectively. The population of the area is mainly ethnic Georgians called Tushs or Tushetians.
Historically, Tusheti comprised four mountain communities: the Tsova (living in the Tsova Gorge), the Gometsari (living along the banks of the Tushetis Alazani River), the Pirikiti (living along the banks of the Pirikitis Alazani River) and the Chaghma, living close to the confluence of the two rivers). Administratively speaking, Tusheti is now part of the municipality of Akhmeta, itself part of Georgia's eastern region of Kakheti. The largest village in Tusheti is Omalo. Hiking in Tusheti is very popular tourism attraction in the area.
Within the Trekking tour Tusheti you will see: Abano Pass – Lake Ortskali – Lake Samkhirne – Village Vestmo – Village Vestomta – Village Gogrulta – Village Dochu (or village Bukhurta – Village Ilurta or Saalmis Gori – Village Vakisdziri) – Village Jvarboseli – Tsovata – Village Jvarboseli – Nakhaicho Pass -Mount Gonta – Village Kvemo Omalo.
Sightseeing: Lake Ortskhali, Lake Samkhirno, Tsovata, Trinity chapels and vaults, Nokhaicho Pass.
I Day: Tracking in Tusheti (Abano Pass)
07:00 am we will drive from a Tbilisi to the direction of Abano pass. From here we will start the trekking tour.
There is a path to the west along Tseri going down to Ortskali. Then the path leads between two lakes to the river Ortskali and goes up to Lake Samkhirne, on the south-west. From Lake Samkhirne we return to Ortskhali.
Overnight in tents.
II Day: Tracking in Tusheti (Gometsari Gorge)
Tourists can spend a few hours with shepherd and watch how sheep are milked and how cheese is made.
The way from Ortskhali goes through villages Vestomta, Bukhurta and Ilurta;
Overnight in tents
III Day: Tracking in Tusheti (Tsovata)
On the fourth day the rout continues to Verkhovani.
Here we will leave our equipment in guesthouse and go to Tsovata direction, where the tourists will see Tsaro, Indurta and other sights which once were very beautiful, but today only ruins are remained. Also tourists will see ancient vaults and unspoilt nature.
Overnight in Verkhoani in a guest house.
IV Day: Tracking in Tusheti (Nokhaicho Pass)
We will go along village and go up to Nakhaicho pass. You can enjoy the spectacular views of two beautiful gorges-Piriqita and Gometsari gorge.
From Nakhaicho pass we will go down to Pirikiti Gorge to village-museum of Dartlo.
Overnight in Dartlo guesthouse.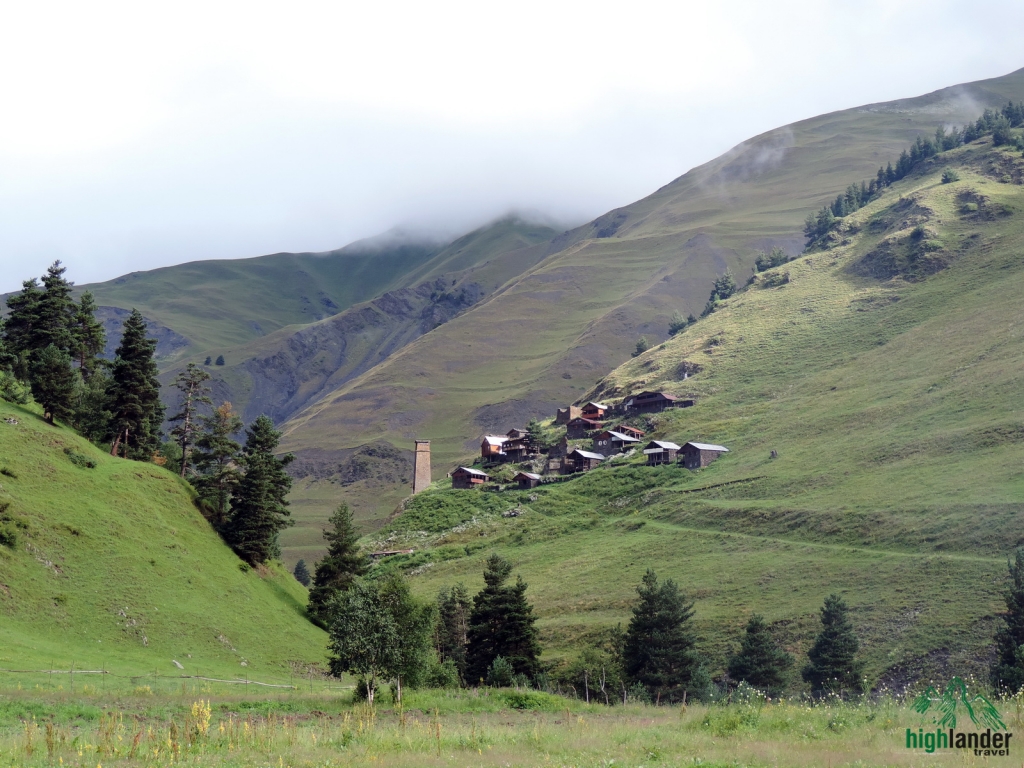 V Day: Tracking in Tusheti (Diklo)
We will go to amazing Chanchakhovani gorge, passing the ancient village of Chigo along true alpine meadows.
In board village of Diklo we will see Pichekhi castles.
Overnight in Diklo guesthouse.
VI Day: Tracking in Tusheti (Zemo Omalo)
On sixth day the rout continues to the dimond vilage of Chanchakhovani gorge – Shenako.
From Shenako we will go to Zemo Omalo, passing the administrative center of Tusheti ragion – Kvemo Omalo.
In Zemo Omalo we will see 'Keselo" castles, which are standing on a sharp rock for centuries.
Overnight in Zemo omalo guesthouse
VII Day: Tracking in Tusheti (Transfer to Tbilisi)
| PAX | 1 | 2 | 3 | 4 | 5 | 6 |
| --- | --- | --- | --- | --- | --- | --- |
| Price in USD |  1330$ |  740$ |  540$ |  440$ |  380$ |  330$ |
Price includes: Transportation. English and Russian speaking driver-guide, expert leadership. Horses for luggage with horse guides. All accommodations in Tusheti with 3 meals per day.
Price doesn't include: At desire personal horses (50 GEL per person for one day), Tents and sleeping bags; Food within tracking; At desire, meal at the restaurant (15-20 GEL per person).
Comments
comments