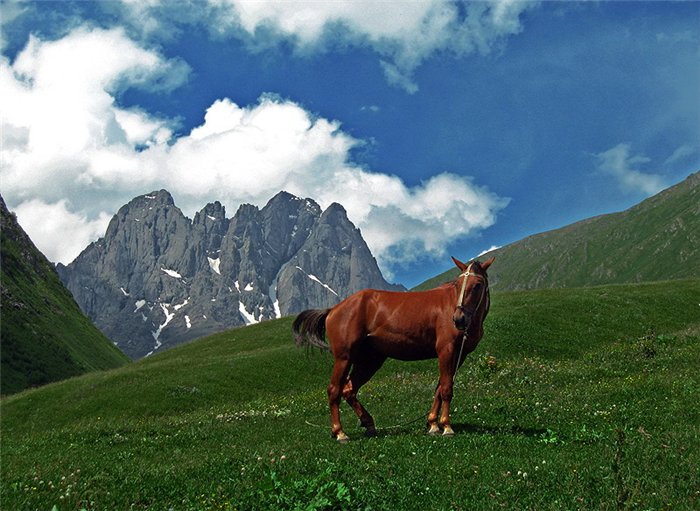 Short, 2 day Chaukhi pass trekking from Kazbegi, village Juta to Khevsureti, village Roshka, via one of the most beautiful trails of the area – via Chaukhi pass and Abudelauri lakes. Main places of interest:
Jvari monastery
Ananuri fortress
Cross pass
Gergeti trinity church
Sno fortress
Chaukhi rocks
Abudelauri lakes
Day 1 Drive from Tbilisi to Kazbegi region via Georgian military road. On the way visit Jvari monastery, Ananuri complex, cross Great Caucasus range via Cross pass (2395 m), arrive to town Stepantsminda. Hike to Gergeti trinity church, in good weather from here tourists will see summit Kazbegi (5021 m). Return to Stepantsminda and drive to Sno valley, on the way to village Juta visit Sno fortress. Stay in Zeta camping, on altitude 2300 m, with perfect view to Chaukhi rocks.
Day 2 Start hiking to Chaukhi pass – 3300 m. After crossing the pass tourists will visit Abudelauri lakes, there are 3 lake – green, blue and white. After rest near the lakes go down to the village Roshka. Transfer from Roshka to Tbilisi.
Tour is available from middle of June till middle of September. Tourists must have:
Good hiking boots.
Rain coats.
Dry clothes.
Sun glasses
Sun cream.
Bottle for water.
Walking sticks.
| PAX | 2 | 4 | 6 |
| --- | --- | --- | --- |
| Price in USD | 250 | 135 | 100 |
Tents and sleeping bags are not necessary. They may be rented in camping. Tour package includes:
Doesn't include:
Meals
Sleeping in camping
Tent, sleeping bag and pad rental.
Comments
comments