Svaneti – crown of Caucasus – the most mysterious and magnificent part of Georgia. As it is told – if you haven't seen Svaneti – then you haven't seen Georgia. It is not enough only to see Svaneti, one has to feel it, and if tourist will feel it, then never will forget. We offer you unforgettable tour to Svaneti, to see its natural beauty and feel it's spirit.
Our goal is to show in short period the best and most important places of Svaneti, to make tourists feel it and love it as we do.
Day 1
Arrival to Mestia. Check in guesthouse. Walk around historical districts of Mestia – Lanchvali, Lekhtagi and Lagami, visit ancient Svan house of Margiani, museum of famous mountain climber- Mikheil Khergiani and Mestia museum of history and ethnography. Dinner in guesthouse.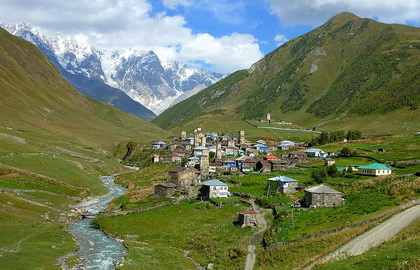 Day 2
Breakfast. Tour to village Becho. Hiking to Shdugra waterfalls in Shikhra valley, from where is amazing view to mountain Ushba. if group is well fitted, then hike till Ushba glacier. Return to village Becho, where you can taste local apple vodka, learn about village life. Return to Mestia.
Day 3
Breakfast. Drive to highest village in Europe – Ushguli, in bottom of mountain Shkhara – 5068 meters above the sea level. Whole village is listed by UNESCO as world heritage site. Visit ancient Svan house, church Lamaria, museum of icons. Return to Mestia. Dinner.
Day 4
Breakfast. Visit ancient church Matskhvarishi in Latali with unique frescoes. Departure from Svaneti.
Tour to Svaneti price: 
| PAX | 2 | 4 | 6 | 8 | 10 |
| --- | --- | --- | --- | --- | --- |
| Price per person in USD | 295$ | 210$ | 180$ | 180$ | 170$ |
Tour package includes
Guesthouse in Mestia, HB meals
Guide service
Museum entrance fees
Transportation according to the program.
Not included:
Transport to Mestia and from Mestia isn't included.
Tour can be merged with other tours if tourists are arriving to Svaneti by car. It is also available flight from Tbilisi to Mestia.
Comments
comments