Georgian wine tour in Kakheti covers:
Ikalto monastery
Gremi historical complex
Nekresi monastery
Kvareli wine cellar
Gvirabi cellar
Telavi
Tsinandali
Gurjaani wine cellar
Signagi
"Pheasant tears" wine cellar
Day 1
Extended Georgian Wine tour in Kakheti offers you wide variety of Georgian wines.Travel from Tbilisi to famous wine making center Alazani valley via Gorbori pass. Continue driving to Gombori pass, from where tourists will see picturesque views of Gombori range, Iori and Alazani valleys. Ikalto monastery was founded in VI century, after one century there was opened seminary and in XII century, by order of King David the Builder seminary was transformed into academy where was the first department of wine making in the world. Gremi historical complex – museum and fortress. Nekresi monastery, which stands on the top of the hill, and from where is picturesque view to Alazani valley. Oldest buildings of monastery are dated by VI century. In town Kvareli tourists will visit  wine factory and wine tunnel.
Dinner and sleep in Telavi guesthouse.
Day 2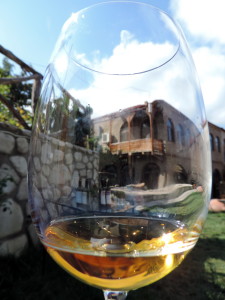 After breakfast walk around Telavi. Then visit Tsinandali museum which is located in village Tsinandali. Here is also one of the biggest wine cellars in Kakheti. Then here was built wine factory where is produced Tsinandali wine, which tourists will taste after visiting museum. Drive to town Gurjaani. Here tourists will visit wine cellar which belongs to family, learn about farmers style wine making and take part in preparing Georgian traditional dishes. After tourists will have lunch in the cellar – real Georgian Supra. Signagi – town founded in XVIII century as center of south Kakheti region. It is popular tourism destination, because of its location – on the Gombori range, from where is picturesque view to Alazani valley and great Caucasus range and also because its original architecture. In Signagi there are many restaurants, casino, wine cellar – "Peasant's tears", where tourists can taste wines and learn a lot about wine making traditions of Georgia and school and exhibition of handmade carpets. Return to Tbilisi.
Price includes: Transportation with comfortable vehicle, guide service, museum entrances, wine tastings according to the tour program, guesthouse in Telavi, Dinner and breakfast in Telavi, Sufra in Gurjaani.
| PAX | 2 | 4 | 6 | 8 | 10 | 12 | 14 | 16 |
| --- | --- | --- | --- | --- | --- | --- | --- | --- |
| Price in USD per person | 225$ | 160$ | 140$ | 125$ | 120$ | 110$ | 105$ | 100$ |
Comments
comments